6/22/16: Banned Memes
So the meme posted on here yesterday was also posted on facebook. Apparently it is too fucked up for facebook because this happened: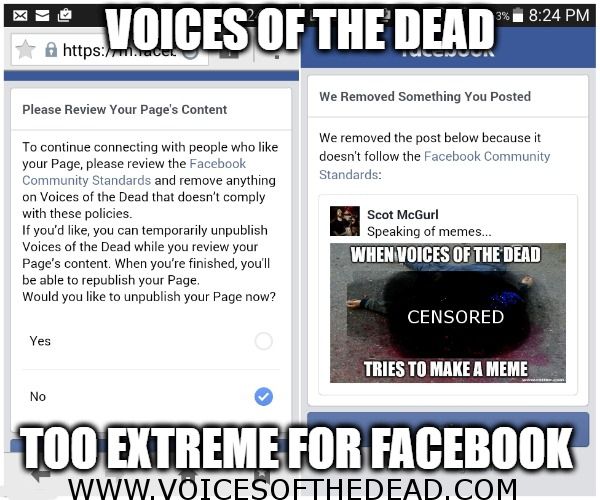 I honestly didn't think it was particularly offensive. Death is a part of life. This incident is incredibly illustrative of what started this band. I feel that death has always been a source of fear and avoidance. When we shy away from our fears we just encourage that fear to grow. The only way to overcome fear is to confront it. Face it head on.
One of my reasons for my fascination with death is because it's something that makes everyone uncomfortable. Even though people try and avoid it, they will be the same people that will cause hours of traffic backup to try and catch a glimpse of a dead body at the scene of an accident.
These same people will look at me like I'm a freak for fully immersing myself in death. The irony to this is that I am try to work through something, and through my art and music, fasciliate a mass healing for the fear of death.
There is beauty in death. As with everything, it's all perspective.


6/22/16: Memes
It seems that all anyone cares about online is memes.


6/6/16:
Death Rebirth rereleased with updarted mixes and mastering.
Today marks the 10 year anniversary of the day I first released Voices of the Dead music to the world! To honor that day I totally remixed and mastered the whole death rebirth cd. It's all the same songs played exactly the same way just with a much better quality. The songs are way clearer and punchier than ever before. Do yourself a favor and listen to this on a high end stereo with subwoofers. I specifically edited the EQ on the album to punch you in the chest with every bass note and kick drum!
Click here to go to the Voices of the Dead bandcamp to hear the newest version


Vermont Drone Footage:
Missy and I took our drone for a trip to Vermont. The result can be seen below.



Close to two weeks until "Death; Rebirth" is re released sounding better than ever!


5/3/2016:
Video playthroughs
Over the last couple weeks I put out my first two video playthroughs. The first one was "Witches of Salem" and I put out "Summon the Dead" this week.

Witches of Salem
is off of my first full length album "Death Rebirth." The song presents new theories for the conspiracy behind the Salem Witchcraft trials. Voices of the Dead is a diverse mix of various subgenres of metal and this one probably sits closer to a tribal death metal feel. This song was the first official single I released along with a music video last year. The video was filmed at pioneer village in Salem, MA which is a recreation of salem village in the 1600's. I'll post the official music video under the two video playthroughs.


Summon the Dead
was inspired by years of ghost hunting, exploring abandoned buildings, necromancy and spirit communion. The song touches on the bands orchestral and industrial sides as well as eastern instrumentation via guitar synth. This song is one of my personal favorites and so far has been an opinion almost universally shared by all the fans I'm getting feedback from.




1/26/2016:
Lots of new things in the works for the band. I've been working a shit ton driving for Lyft in Boston which has funded all kinds of upgrades for me and the band. I got a brand new guitar, which has been long overdue. I was playing the same piece of shit that wasn't intonated at all and is probably the most difficult guitar on the planet to play. We now have a base of operations in Arlington, right outside of Boston. I have a home studio setup here complete with a new electronic kit so I can get back to playing drums. I'll be recording video playthroughs of all my songs for potentaial band members to learn my material. These will be on youtube soon.
On youtube now is a new clip of a video I shot at Mount Auburn cemetery in Cambridge, MA right over the river adjacent to Boston. This is one of the coolest cemeteries in the country and I filmed it in ultra HD with the new drone I bought for music videos. I have a shit ton of music videos planned for this year and now I have several ultra HD cameras to film it with. Here's an example of what the new videos and music will look and sound like.







1/13/2016:
Check out this video off my second album that is in the works. The video is from Sammy's patio in Revere, MA and the audio is the studio version where I wrote and recorded all the instruments and vocals. One of my heavier and more orchestral tracks. Check it out, give it a chance. It's only a few minutes, who knows, maybe it's your new favorite song.




January 7, 2016
. As Monty Python would say, "and now for something completely different" This is the second music video off my "Death. Rebirth" album. No blood, no gore, no dancing zombie chicks, double bass or blast beats. Just some sitar, tablas and me singing over video footage of a shoot in Vermont from 2012. Relaxing nature footage in the foggy green mountains, with some herb indulgence. Like, share, enjoy smile


July 15, 2015:

After several local shows with our drummer Alex I'm getting ready to head south to Georgia to meet up with our new touring drummer Joe. I will be doing some solo acoustic perfomances along the way there and back at rest stops, walmarts, open mics and venues to help raise money for the trip. We're going to be travelling in "The Bus of the Dead" our school bus RV. We'll be camping out in the bus in Vermont preparing for future shows and tours. We will be planning our next tour for late October of this year. We will be touring down to the southwest playing gigs in states along the way and then touring exclusively in the southern and western parts of the country for the winter months. We will resume touring in northern states once the cold fucks off around May or June 2016.
We will have new music videos released along the way as well as new songs being previewed at live shows. I'm about a year ahead of schedule for the second CD which already has a good chunk of material completed. You can only hear these if you catch our live performances for now. Stay tuned for lots more updates and be sure to check our blog for more day to day updates.


Back home from the tour!
It's been about a month since we got back from tour which was a huge success. Everyone in the band, our roadie, and missy(my gf/assistant manager/merch girl) had the most fun we have ever had in all our lives. This was the most fun, and most succesful tour this band has been on. It has set the mold for all future tours.
Right now we are rehearsing for local summer shows, planning music videos and writing the second cd which is a lot more death/black metal than Death Rebirth.
We are also auditioning drummers to replace Alex who has a kid and isn't able to do any more tours with us. Alex is an amazing drummer and a great friend so it's going to take an exceptional drummer/person to replace this guy. Click Here to view our full want ad for what we are looking for and email me ASAP if interested because auditions are taking place. We don't have an official drummer yet so set up an audition before it's too late.


Death Rebirth tour 2015!!

(please note some shows that were on the last flyer have been cancelled due to circumstances out of our control. Voices of the Dead would never cancel a gig, shit I'd play with a severed limb if I had to, some venues don't have the same level of dedication to making shows happen unfortunately. If we had a gig cancelled in your area, make sure you let us know and we will be playing for you next time around)


March 21st, 2015:
Headlining show in Lewiston, Maine March 28th!
Death Rebirth tour in April!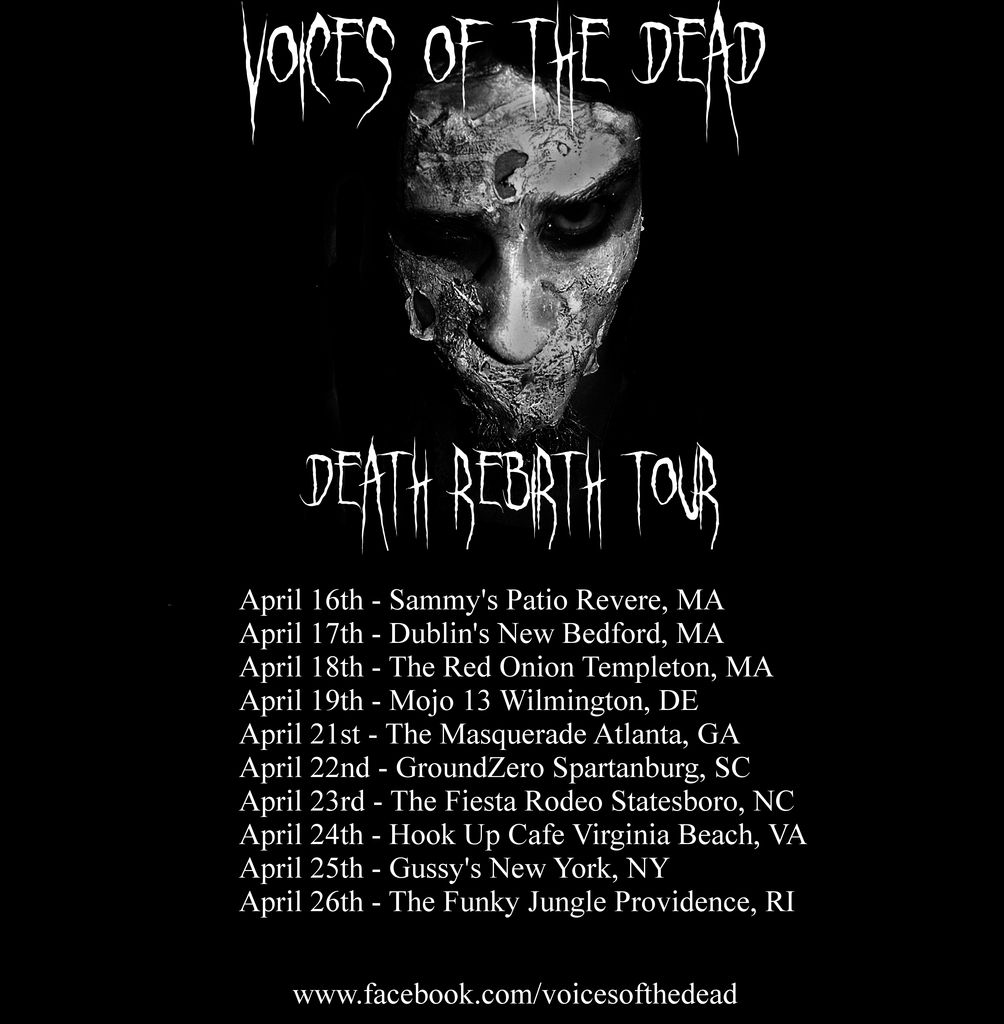 February 8, 2015:

New shows announced including a tour of the east coast and midwest this April! Check our shows section for all upcoming gigs! Also updated our blog so check that out to be caught up with the recent events with the band.


January 14th, 2015:
Bus of the Dead adventure to open for Mobile Death Camp in Maine!

March 7th The Bus of the Dead will be departing Garder, MA at 1pm to travel to Lewiston, Maine where we will be opening for Mobile Death Camp(featuring todd evans formerly beefcake of GWAR)!!!!!
Click "add to cart" to purchase a ticket for $10(includes admission to the concert and free bus ride from Gardner to Lewiston, ME)



January 5th, 2015:

"Death. Rebirth" has been out since the winter solstice and can be purchased by clicking here
We've played a bunch of awesome shows recently and right now are working on perfecting our stage show in preparation for touring this spring!
Check out our latest video for "Witches of Salem"


December 15th, 2014:
Death.Rebirth is done!
The 2014 winter solstice will be the day I share a 7 year work in progress with you all. It's been a long trying journey and it's finally here! Words really don't even express the excitement I have!
You can preoder the cd by clicking here In honor of our cd release, we will be playing a show the night before at a private practice space to a small invite only audience. You just may want to stay tuned for the videos from this gig. Think we've had a crazy stage show before? You aint seen shit :D


October 17th, 2014:
A different drummer for every state
New England is the most beautiful place on the planet this time of year. Nothing is more inspiring to this band. Lots of plans are in the works. The one at the forefront right now is my plan to head south for the winter. New England winters can be gorgeous, but 27 of them in a row was enough, I prefer following the warmth.
In travelling south, I will be booking a tour totally different from anything I've done before. I will be playing with a different drummer in every state of the tour(maybe a couple states if you're up for it). It's hard to find musicians that are able to drop everything, get in a school bus and hit the road. With this tour, that won't be necessary. All I need is a drummer for a weekend show or two, and maybe a few practices the week leading up to it. I'm actually really fucking pumped for this, I think it will be a great way to bring together the music community in a fresh way. Email me if you'd like to be part of this. I plan on playing every state east of the mississippi to start, and then I'll head west after that.
I'll be uploading videos of me playing through all the tracks to help in the learning process. What I need from you is to upload/email me an audio track or video of you playing through a song or two and we can go from there death@voicesofthedead.com
Also be sure to check out the new facebook page for "The Bus of the Dead" which is Voices of the Deads school bus that has been converted into a fully functional off the grid rv/tour bus with running water, sink, two burner stove top, multiple beds/bunks/futons, a wood stove, 8-16 bit video games, laser lights, fog machine, projector and of course the bus kitty, the prince of darkness. Check it out at www.facebook.com/thebusofthedead

September 23rd, 2014:
Sweet titty fucking jesus, where to begin?
I have been busy as hell with lots of things and unable to get online. For starters, within a couple days of announcing the new live drummer, he unfortunately had to be fired. We have a fill in drummer for New England shows and are currently holding auditions for a permanent touring drummer. Location you ask? Where ever my 35 foot school bus/tour bus/rv is parked which currently is southern NH. Doesn't matter where you are, if you want to be my drummer email me or get in touch on facebook or something.
Which brings me to the next update. The Bus of the Dead is ready to go!! If you don't already know, a couple months ago I bought a school bus and we just finished turning it into an RV. All the seats were pulled out, two bunks were built, a futon was thrown in, we have a woodstove, running water with a sink and stove, solar powered electricity, laser lights, fog etc. More details and pictures will be added to the blog as soon as I can find time to do so.
So with this school bus we are going to be doing a different kind of show that I've had planned for years now. We are going to pack a bunch of hand selected people onto the bus and drive everyone out to some gorgeous remote spot in nature and play a show deep in the woods. We have a generator to run a whole band and enough space to sleep a shit ton of people. Interested? Contact the band and we'll figure something out. We did the first one this weekend and it went amazingly. So much better than playing in venues. We had a bonfire in the middle of the woods with full live sounds, laser light show etc.
I think that about covers it for updates for now. Check back soon for all the pictures of the Bus of the Dead.

September 1st, 2014:
Now that we are facebook official, I want to welcome Scott Bray as Voices of the Dead's new live drummer!! We have several gigs booked in September and November with more in the works.
September 20th: Private performace deep in the VT woods
September 21st: The Lucky Dog Music Hall, Worcester, MA
October 26th: Club Oasis, Worcester, MA
More in the works, check our shows section for more details!

August 8th, 2014:
Everything is back on track after 5 years. Working with a bad ass new drummer, gigs and tours in our school bus are being planned, "Death:Rebirth" our debut full length album will be released Autumn 2014. Things are good, more to come :)

July 12, 2014:
The mothafuckin super moon!

So the peak of the super moon was this morning around 7 am. For those of you who don't know, the supermoon is 10x more intense than your average full moon as far as energy is concerned. Meditation, yoga, and energy work are important in day to day life, but on a day like today that importance is heigtened 10 fold. Emotions can get crazy if you neglect this need but in contrast, using this energy to your advantage will prove highly effective. Focus your perception on exactly what you want and need in life. If it is in alignment with your purpose and on par with the path of positivity, you will find magickal things will come with ease. You can find plenty of articles around the internet that goes into deep detail about the supermoon, this is just my feeling/opinion.

July 1st, 2014:
Need someone to film your music video but don't have much money? I can help

If you like my "Witches of Salem" music video, I can make one for your band as well. I do all the filming, concepts, special effects makeup, editing etc for cheaper than anywhere else. Find me the person that'll do it the cheapest, and I'll do it cheaper than them :)

June 21st, 2014:
Our first music video is out!!

Vicarious vengence against your accusers in the "Witches of Salem." You can view it right here, share it, watch it, like it, comment on it; any of these will be providing direct support to us :)




May 30th, 2014:
Big Fucking News.

So, the music video is done, and the CD recording is done!!
My first official music video for "Witches of Salem" will be released on the 2014 Summer Solstice, June 21st, 2014. With the release of the music video I will be announcing the release date of my debut full length album "Death. Rebirth." A preview of the music video along with some behind the scenes footage can be see in the first few minutes of this video:

Entering final mixing/mastering phase of the cd and auditioning members for the live line up. Email me quick if you'd like to be part of the audition process :)
April 29th, 2014: Finally back home in Vermont. Our mobile bilboard got quite a lot of looks and had it's picutre captured fairly often along the way. We have a gig coming up on May 10th in Revere, MA at Sammy's Patio. This one is a homeless benefit. $10 cover to do your part to fight homelessness in your state. We will be playing more and more starting this summer. Be sure to let me know if you'd like me to play in your area. I'll play anywhere; a club, the woods, a house party etc.
I'm focusing heavily now on recording bands, making music videos, tarot readings and energy healings. Contact me if interested. Payment can be in the form of anything useful in addition to standard US currency. Check our fundraiser page for ways you can help our cause.

March 16th, 2014:
Getting all our ducks in order. Wait, we forgot the fucking ducks. Figurately speaking of course. We are preparing for our journey back to the north country in the near future. Finalizing content on the full length release "Death. Rebirth" which should be released this spring, as well as uploading content to all the various mediums. Keeping up with our blog? How about our youtube channel?
We're on all kinds of social media, but make this site your main source for all things voices of the dead.
Titties.

February 26th, 2014: Have you seen this trailer? Click the picture to be brought to our services page detailing everything available on this billboard and more.

February 17th, 2014:
Lots and lots of new stuff going on. Lots of new products for sale, lots of services offered(recording/mixing/mastering, tarot readings, energy healings, dreadlock creation and maintenence, and more). We are adding more and more videos to our youtube page so subscribe to that to keep in the loop http://www.youtube.com/user/voicesofthedeadband. Also, we will be heading back up to New England soon and will be resuming gigs, except this time as a one piece. I have had no luck finding a stable line up that can play my material as well as I'd like so now I will be playing guitar and screaming live over the drums, bass, and keyboards that I prerecorded for the CD. If you would like to be my live drummer, rhythm guitarist or keyboardist, by all means, hit me up. I think that's it for now, gotta get back to work :)
January 31st, 2014:
Just uploaded part 2 of our homeless wilderness adventure. This part of the adventure was when we had to come back down to Mass for a gig. It includes highlights such as checking out a band rehearsal space run by Nazis, a trip to a beach with a wormhole to silent hill, hanging out with the local homeless types and just general fuckery.

January 1st, 2014:
Well let's start this year off right. Below you will find a video with all kinds of live footage, music video clips, behind the scenes footage, nature adventures, playing with fire etc etc. At the end you will also find all kinds of cool new shit we have to offer! We also have a second video which is more of a nature video with some highlights from the first couple weeks of us being homeless in the mountains. Several more videos are on their way from that particular adventure.
The final vocal performance for "Witches of Salem" is in the midst of being recorded while I finish up the album. The shit is sounding fucking awesome. Everything is pretty much done, it's just a matter of how perfect the levels are. Ill be announcing release dates for the video and album very soon!
The first video is the one highlighting details of the band on and off stage. The next one down is the homeless in the mountains video.


December 17, 2013:
It's been so long since we toured that I completely forgot about eventful.com. This site helped us play for people that wanted to see us in the past. Just logged back in and found people from all over the US and Europe that want to see us! Click on the widget below to demand that we play your area! We WILL be touring again starting in 2014




View all

Voices of the Dead tour dates




December 12, 2013:
I think everyone should watch this clip

November 16, 2013:
So what has voices of the dead been up to? Well, since I last updated here in june, my gf and our two cats got kicked out of where we were living and began a journey of vagrancy that continues to this day. The album was almost completed. We decided to head to the mountains in the van armed with a tent. After the bands most recent gig on august 3rd we drove to the white mountains, hiked a mile into deep wilderness and began our journey. Needless to say, I was unable to work on the album with no electricity. I'll be posting lots of pictures and blog entries detailing the whole trip. I have most of it documented, but I haven't had internet access to upload the whole time. The cd is near completion, just need to finalize the mixes and master the tracks. I'll be releasing my first music video soon. It's just about done and is just awaiting a mastered track :)
Also, new articles are being added to the occult section. Law of attraction/Positive thinking is up, and I have one in the works that is about awakining your intuition and power of manifestation.
June 1st, 2013:
So after our last gig on 420, I(The Voice of Death) got strangled by the venue owner, my computer broke, and we need a new rhythm guitarist. We still need a keyboardist, and possibly a bassist. Email death@voicesofthedead.com if interested. In the meantime, we have several gigs coming up, more to be added soon.
June 14th, Cancer benefit in North Providence, RI
August 3rd, The Red Onion in Baldwinville, MA
August 17th, Pray for Death Fest in Wallingford, CT
More to be announced soon, check our gigs section for more details!
March 27th, 2013:

March 11th, 2013: As per usual, holy fuck its been a long time since I've updated this. Too busy with band stuff :). Where to begin? Well, we are now a 3 piece band. We have recruited Rick Rivera for drums, and Jamie Cummings for 2nd guitar. We are just about gig ready, and will be gigging the second we are. All kinds of gigs in the works, so keep an eye out for that. Let's get right down to the point here though, what about the CD? Well its fucking half done thats what. We have a 3 song demo avaiable for your listening pleasure. You can stream it from our page, or download the tracks for free if you'd like!

November 1st, 2012: Holy fuck it has been a loooong time since we have updated here. We've played 3 shows in the last week alone and have another in a few days. Gigs have been fucking AMAZING this time around. It finally feels right. Most of the gigs we didn't have time for our full stage show, we'll be sure to bring it in the future, or at the very least post videos of this insanity.
As lame as I originally found social media, it is just vastly easier to keep in touch and everyone updated on facebook. Like us over there www.facebook.com/voicesofthedead
In also news; making fucking progress on the CD!! Nailed all the guitar tracks right before this last slew of gigs. Same with the drums, I nailed the entire set in one take for both the rhythm, and the lead guitar minus one song. The difference this time, is I don't even need to edit the shit! For the first time in a long time, the CD is actually almost done.
We did an excellent photoshoot for the CD layout the weekend before I completed the guitar tracks.
Lots and lots going on behind the scenes also, you will be informed as soon as they come closer to fruition :)

August 30th, 2012: The pace is quickening quite rapidly as the summer draws to a close. The spiralling vortex is spinning at higher and higher veloscity as it funnels down to a super concentrated point of black mass. We are playing our first gig in 2 weeks, we also just confirmed an additional show on October 27th in Smithsfield, RI. Where else would you wanna be but a Voices of the Dead live experience on an autumn night before Halloween? You know we are undead, show up early to any of our gigs and I, The Voice of Death, will personally make you up into an undead nightmare. Zombie mosh? I think so indeed. We will also be video taping our upcoming gigs in HD for your viewing pleasure. It wont quite compare to the live experience, but its a start :)
Join our tribe
Also, we are using a new guitar tracking technique that is working fanfuckingtastically. Not only can I record day and night, but it sounds crisp and ballsy as a motherfuck. Makes our current demo guitars sound like shiiiit in comparison. Lead tracks are done, just doing some more for good measure. Once the lead is all set, the rest is fucking cake. Tits.

July 28th, 2012: Change of plans for the first gig, our first gig in 3 years will be taking place September 14th, in Providence, RI. We are headlining an all ages show at the PVD social club, and will be playing with Necrophiliac Meat Circus. We are also playing on October 28th in Worcester, MA for the Kaos Krew Halloween bash!! Also, we have new t-shirts, we are placing an order for them this weekend and should have them in soon! Lots more news to come, pay attention motherfuckers!
July 14th, 2012: Holy motherfuck has shit changed. It's been a while since I've updated here, and a whoooole lot is different. For starters, we have a new drummer. His name is Prasad. Secondly, we are playing shows again. We'll be co-headlining a gig the 28th of this month, check the shows section for all the details. We have several other shows in the works. Our live show is going to be new and improved. Next on the agenda is completing the CD, followed by 2-3 music videos! We also have updated our biography, so check that shit out! Still need a rhythm guitarist, bassist, and possibly a keyboardist. We will have new articles added in the near future as well. Thats all for now fuckos, more to come soon!
September 17, 2011: Tomorrow I am doing tarot readings at The Lily Pad in Cambridge, MA. The event will take place from 2:30-5:30. If you have come to my website for tarot readings, you can email me your name and question to readings@voicesofthedead.com
August 24th, 2011: Aahhh where to begin? Lots has been going on. Many updates to be had are on facebook now, the blog also has some good nuggets. As of late, I have been reworking the songs, working on getting my drum skills to crazy levels, and making arrangements for the completion of the first Music Video! I make no guarantees as to when it is released, but you dont have too long to wait I assure you. The Cd will be shortly behind that release.
Im now starting to teach drum lessons again. Ill be doing guitar lessons also.click here to see some videos of my drum playing, and email death@voicesofthedead.com if you are interested. Im teaching between Boston, and Salem, MA.
Im also still doing tarot readings for free, but a $5 donation would be greatly appreciated. Lately Ive picked up on energy healing, either at a distance or in person. I will also do these for free, but a donation would be greatly appreciated. I would much rather dedicate my time making money to spiritual pursuits to help the world, rather than a lame day job. :) Email me if you are interested in either.

March 20, 2011: Recording of the debut album commenced this past monday, and all the guitar tracks were completed in 8 hours over the course of 3 days! If you haven't already noticed, I've set up a blog documenting the recording process. Click "recording blog" link above to check this shit out. There's pics and updates and other random shit.
Also, we are on facebook now, so find us and like us on there!
Still looking for musicians who can tour. Need a rhythm guitarist, keyboardist, drummer, and bassist. Contact me at death@voicesofthedead.com to set up a try out.
New t-shirt designs coming soon! Any of our graphics are available as t-shirts so feel free to request a design on a t-shirt.

Keep checking back, the pace of the band is picking up swiftly. Being on the mailing list will give you all the updates as soon as they happen. Email mailinglist@voicesofthedead.com with "subscribe" in the subject bar to sign up.
February 13, 2011: So you may be wondering, What the FUCK happened to Voices of the Dead? There were some significant roadblocks for the last few years, but I'm back on track now. For the last few months the band had been back to the original lineup, which consisted of just me, Scot "The Voice of Death". Luckily, I just started to jam with a fucking amazing drummer. I'm looking for a new keyboardist, 2nd guitarist, and bassist. I may need a touring drummer also. Email death@voicesofthedead.com if you would like to discuss an audition. For the first time in about 3 years I have some new music for you to check out!! Click on "Music" to check it out. I just recorded and uploaded a cover of "Roots Bloody Roots" by Sepultura. I've also uploaded a track that I'm calling "Tribal Spirit Drums". It is a 16 minute track that can be used to induce deep alpha trance states if you listen to it through headphones. It can be listened to without headphones if you want also. I wouldnt recommend listening to it with headphones unless you either have experience with binaural beats or chakra clearing/energy work. If you want to try it at your own risk be my guest, but it awakens your kundalini energy which can be overwhelming if you either have blocked chakras or no where to direct the energy. A simple grounding meditation or some qi gong would be good to help settle the energy after listening. For me, qi gong and kundalini yoga are a must. I would recommend meditating while listening to it to achieve the full results. Ive had some intense experiences with this track, and I encourage you to give it a try if you are prepared, and feel free to email me your experiences!! To learn more about binaural beats and meditation, click here.



Contact Voices of the Dead
email: death@voicesofthedead.com